Pass your Mini first!
Since the first edition in 1977, the Mini Transat has been established as THE school for offshore racing. This is due to the several specificities of this race, which runs:
Across the Atlantic

: a long race to test the self-management capacity of sailors in terms of nutrition, sleep and mental health

Solo:

you have to do everything alone, routing, navigating and repairing, and be able to make all the decisions onboard alone

On tiny 6m50 boats:

which greatly limits comfort at sea,

Without electronics

: you have to know how to analyze the weather and optimize your route by hand, without any software help or any shore team,

Without assistance

: you have to know your limits and those of your boat, and have a certain mental strength to overcome any challenge you might be facing alone
A technical race
It is a very technical race, at all levels, which requires great expertise in many areas:
Navigation

: strategy, maneuvers, tactics, meteorology, etc.

Technology

: seamanship, sail repair, electricity, electronics, mechanics, etc.

Energy management

: sleep, nutrition, etc.

Mental preparation

: loneliness management, responsiveness, decision-making, risk management, etc.
An incredible human adventure
Leaving alone and without assistance, that's madness! Yet it is through these challenges that you discover your own limits and that true enthusiasts are born.
A real springboard for future skippers
In Mini, budgets are low, and the difference in level is not played out in the bank account of sponsors: this is one of the specifics of this race, which allows for any type of sailor to compete, and potentially stand out.
Thus, the Mini is a real springboard for those who dream of becoming great skippers.
Today, many "great" racers have been through the Mini, such as: Loïck Perron, Michel Desjoyeaux, Ellen MacArthur, Marc Guillemot, Thomas Coville, Tanguy de Lamotte, Clarisse Crémer and many others.
requiring two years of training . . .

Since the Volvo Ocean Race, I couldn't remember such a close contact navigation. It was a real fight at all times.
You're alone facing the ocean. There is no permanent radio contact. You can't call Mommy. If you want to face your own limits, this is the race you need.
It gave me taste for open sea. I will never forget it!
Apart from the around-the-world races, I do not know of such an extraordinary race. There are as many winners as there are sailors at the start. Sportingly speaking, I would rather win a Transat 650 than a Route du Rhum.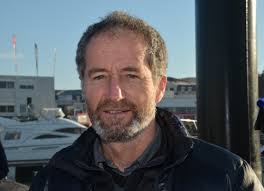 Humanly this Transat is ideal for those who dream of a great adventure and always serves as a revelation to those who aim higher.
The Maxi 6.50
Since its first appearance in the class in 2011, the MAXI 650 has won all the Mini Transat he raced. Thus, in 2017 the IDB Marine shipyard decided to build her in series: the first serie's boat with a rounded nose. Her performances are such that it is already whispered on the pontoons that the MAXI is the boat that will win the next seasons of the Mini in series.
So naturally it was Sasha's choice of boat, a very competitive machine, offering this project the best prospects. The boat will be delivered by the shipyard this winter, and Sasha will prepare her herself to know her by heart, a particularly interesting stage of the project for the engineer she is!
"What are qualifications for? Following the 1999 Mini-Transat, which saw nearly half of the fleet abandon and many safety beacons triggered, the Mini Class, strongly encouraged by the French Sailing Federation, had to react.
So we put a qualification system in place. The goal is simple: to allow Transat candidates to become aware of both their true technical level and their psychological ability for solo navigation. Crossing the Atlantic solo is not trivial. It's a real personal commitment, an experience where you take charge of your destiny: in the middle of the ocean, you can't count on anyone other than yourself. "
The Mini Class
This qualification system for the Mini Transat is achieved in two stages. First, competitors are asked to travel 1000 miles solo outside of any race, on a specific course that runs along the French Atlantic coast and goes up to the south of Ireland. Then, the candidates must validate 1500 miles racing, during the many races of the Mini calendar that take place every year. These races are done in doubles or solo, classified in categories A, B or C depending on the distance to the coast. Finishing a race in category C gives you the right to register for a Category B race, etc. So Minists are gradually going out to the open sea !
These races are used for qualification, of course, but mostly serve to train in fleet against friends: this is where they can really test their level and compete against others. It is also the occasion of major media events to communicate about the Mini Class and for the skippers to receive their partners on the pontoons !
La Plastimo Lorient
Date: April 2020 and 2021
Route: 250 Miles
Category: C
Crew: Double
La Pornichet Select
Date: April 2020 and 2021
Route: 300 Miles
Category: C
Crew: Double
La Mini en Mai
Date: May 2020 and 2021
Route: 500 Miles
Category: B
Crew: Solo
Le Trophée Marie-Agnès Perron
Date: June 2020 and 2021
Route: 300 Miles
Category: C
Crew: Solo
Le Mini Fastnet
Date: July 2020 and 2021
Route: 600 Miles
Category: B
Crew: Double
Les Sables – Les Açores – Les Sables
Date: August 2020
Route: 2600 Miles
Category: A
Crew: Solo
La Mini Transat
Date: September 2021
Route: 4400 Miles
Category: A
Crew: Solo
Physical preparation
A sports competition means physical preparation! This will require intensive training with specialized coaches: cardio, strength and endurance are on the menu !
Of course, Sasha will continue her intense yoga practice, and to be accompanied by an athlete specialised nutritionist .
Theoretical training
To be ready to face the sea alone, various theoretical trainings are required, in order to be at the forefront in terms of meteorology, routing or sleep management.
In addition, racers are asked to perform a high level of radio training, as well as a survival course for the open sea.
Training on the water
For a successful project, Sasha will train at the Pole Grand Large in Lorient, the greatest center for offshore racing training. It's an opportunity to learn and progress daily against your competitors.
Joining a Mini center is also joining a large family, known for its legendary solidarity.